Detail - Informační a orientační cedulky
---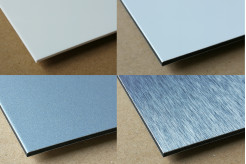 Selection materials for online order:
Foam plastic - lightweight material, but with a softer surface. White matte finish with fine texture.
Hard plastic - very durable. White smooth gloss / matt finish.
Bond - in general an aluminum sandwich with a plastic core takes over the good qualities of both - solid as metal, light as plastic.
Bond - silver brushed exclusive look, very popular interior solution.
More information on the materials, including photos in the link - Used materials.
---
Processing time on working days (does not include delivery time and is calculated from the fulfillment of requirements, see processing time details)
Base Term: 4-6 business days (maximum term)
PFor custom tagging: 4-6 business days
Serial marking of company signs: 5-8 business days
Minimum deadline: 1 business day (using the production priority available in the order recap)
---
Non-online orders enable the full range of our production and services:
Advantages:
Professional graphic design with the possibility of future reprint or extension of marking.
Ideal for the entire marking will be in a uniform style based on the supplied list of the required marking.
Extended possibilities of marking, material and surfaces (metal, wood, laser, cutter ...)
Extended mounting options such as magnet, suction cups, suspension ...
Possibility of any shapes, including your own, based on the company logo, or focus, such as the silhouette of the car for service.
Personalized markings - for example the same logo + name changing on each piece according to the supplied list.
Any size up to 1.5 × 3 meters.
Cost savings in multi-piece marking.
The disadvantage is the necessity of extended services (graphic and production works from 500 CZK without VAT). Therefore, this solution is not cost effective for small piece processing. The calculation is calculated according to a specific requirement (size, material, total quantity, number of mutations, form of delivered materials for processing ...)
Please contact us for this option.